American Civil Rights Pioneers
The modern American civil rights movement is generally considered to have started on 01 December 1955. That was the day that a black woman from Alabama refused to give up her seat on a city bus to a white passenger. Her name — Rosa Parks — is now an important part of American history and she is one of many to serve as a pioneer for the civil rights movement. Along with Rosa Parks, we have census documents for Medgar Evers and Martin Luther King.
Rosa Parks
Rosa Parks was born Rosa Louise McCauley on 04 Feb 1913 at Tuskegee, Alabama. She was the daughter of James and Leona McCauley. On Thursday, 01 Dec 1955, 42-year old Mrs. Parks, a seamstress in Montgomery, Alabama, refused to give up her bus seat to a white passenger and in so doing launched the modern civil rights movement in the United States. Following her death on 24 Oct 2005, at the age of 92, Rosa Parks became the first woman in history to lie in state at the U.S. Capital building. » more on Rosa Parks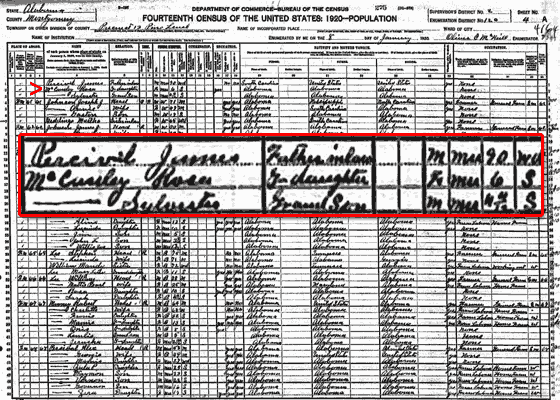 Medgar Evers
Medgar Wiley Evers was born on 02 July 1925 at Decatur (Newton) Mississippi. He was the son of James and Jessie Evers and was just three months shy of his fifth birthday when the 1930 census was taken. Evers joined the United States Army in 1943 and served at the Battle of Normandy on D-Day. Upon his return home, he was denied the right to vote in a local election and that action would help change the course of history and Evers future.

On the evening of 11 June 1963, just hours after President John F. Kennedy addressed a National television audience in support of civil rights, Evers was shot in front of his home and died in the early morning hours of 12 June 1963. The image below shows a 4-year old Medgar, along with his siblings in the 1930 census for Decatur, Mississippi. Medgar Evers is buried in Arlington National Cemetery, Arlington, Virginia. » more on Medgar Evers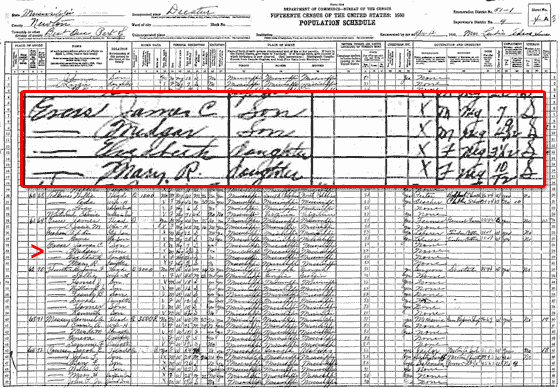 Martin Luther King in the 1930 U.S. Census
Martin Luther King, Jr. was born on 15 January 1929 in Atlanta, Georgia. He was the son of the Reverend Martin Luther King, Sr. and Alberta Williams King. According to his father, the attending physician mistakenly entered "Michael" on Martin Jr.'s birth certificate. King entered Morehouse College at the age of fifteen, as he skipped his ninth and twelfth high school grades without formally graduating. In 1948 he graduated from Morehouse with a B.A. degree in sociology, and enrolled in Crozer Theological Seminary in Chester, Pennsylvania. In 1951 King began doctoral studies in Systematic Theology at Boston University, and received his Ph.D. in 1955.
» more on Martin Luther King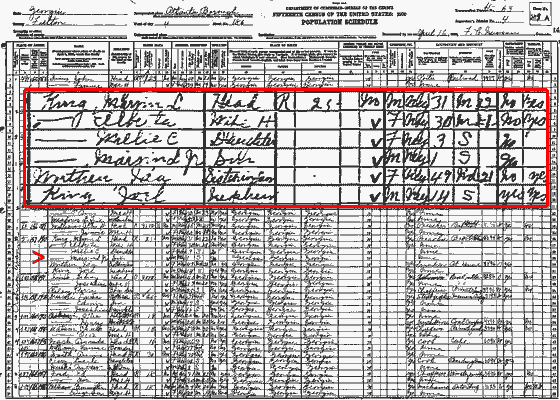 Follow this link for free in-depth details on how to research
census records and interpret census data
for your genealogy & family history.